Denver Art Museum (Free First Saturday)

The Denver Art Museum has a free day on the first Saturday of every month. The Denver Art Museum is a great place to spend an afternoon with friends in downtown Denver. The real Colorado Native American exhibits are some of the best you will find anywhere, and a variety of works from other cultures are also on display.
Location:
Denver downtown on 13th Avenue between Broadway and Bannock. Map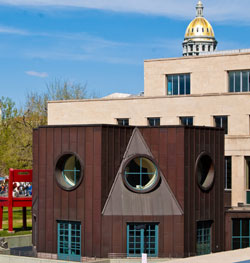 2013 Denver Art Museum Free Days:
January 5
February 2
March 2
April 6
May 4
June 1
July 6
August 3
September 7
October 5
November 2
December 7
All free days are on Saturday unless noted.
Click here for the art museum home page:
questions and comments via facebook
Free Trips Random Panorama
Upcoming Colorado Free Days