On the first weekend of June each year, Colorado waives fishing license requirements. This is a great chance to grab your gear out of storage and take the family to a nearby lake or stream for some serious trout fishing! 
The Wheat Ridge Green Belt, also known as the Clear Creek Trail, is a beautiful area in the Denver Colorado suburbs to hike, bike, or just play on the jungle gyms!
Two Ponds is a very small National Wildlife Refuge which was created as a place for migrating birds to stop and rest.
Looking for a popular Denver attraction for the kids? The free Denver Movies in the Park are one of the top things to do in Denver with the family, and not to be missed if you're in Denver with kids.
The Evergreen Chamber Orchestra will have a free performance on Saturday Feb. 2, 2013, 7pm at Evergreen High School. Talented students from area schools will participate with the Evergreen Orchestra in this free concert.
The Evergreen Chamber Orchestra Web Site:
http://www.evergreenchamberorch.org/
Colorado is known for it's goofy festivals and the Great Fruitcake Toss is certainly one of the headliners. This Manitou Springs tradition is held every year after the holidays in an effort to dispose of certain unwanted confections you may have acquired.
Some people prefer to launch their cakes by hand but many choose to build elaborate contraptions to give their fruitcakes the send off they deserve. There are various cake launching categories as well as competitions for the best and prettiest fruit cakes.
When:
The 2014 Great Fruitcake Toss festival has been cancelled. Hopefully it will be back in 2015.
Where:
In Manitou Springs at the Manitou Springs High School track.
401 El Monte Place
Manitou Springs, CO 80829.
Golden hosts an annual festival celebrating the life and spirit of Buffalo Bill, who is believed to be buried at the top of Lookout Mountain. If you're in the front range during the last weekend of July, Buffalo Bill Days is one of the best things to do on a warm summer weekend.
Deprecated
: Methods with the same name as their class will not be constructors in a future version of PHP; Zebra_Image has a deprecated constructor in
/home/ec2-user/www/public_html/freeindenver/components/com_jem/classes/Zebra_Image.php
on line
46
OK, I normally make it a policy to only check out Denver happy hours that have food specials with drink specials. However, when I saw that that 5280 had deemed Euclid Hall the best Denver happy hour, I had to check it out for myself. I went in skeptical, and came out satisfied and stuffed.
If you are spending a day in Golden and looking for free attractions, The Colorado School of Mines Geology Museum has a large display of rare gemstones, and their mining display downstairs should not be missed! One of the main attractions at the School of Mines Geology Museum is a moon rock collected during the Apollo 17 lunar mission!
When:
Monday - Saturday 9am - 4pm
Sunday 1pm - 4pm
Where:
1310 Maple St., Golden, CO 80401
The Museum is located in downtown Golden on the Colorado School of Mines campus, in the General Research Library building.
Check their web site for details:
If you're looking for free things to do in Aspen, Colorado, good luck! Just kidding...
It turns out that Aspen has a free art museum and hiking / biking trail system that are both amazing Aspen attractions.
The museum is always free, but check their web site to see what is currently on display. If you want a more scenic experience, you can get to the museum by walking or biking the trail that goes through the neighborhoods and begins behind the visitor center at Rio Grande Ball Fields. If you walk the trail, make sure you visit the free and amazingly beautiful John Denver Sanctuary!
Location:
590 North Mill Street
Aspen, CO 81611 Map and Schedule
Aspen Art Museum Web Site and Schedule: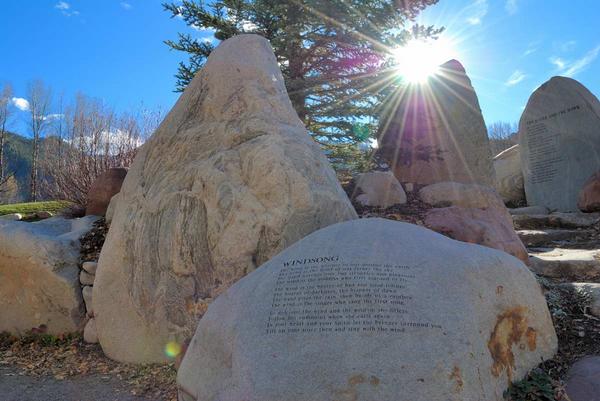 For 2016, Denver will be celebrating Restaurant Week in February and March. Denver Restaurant Week features top downtown restaurants for a reduced price.
Happy hour at the Irish Snug just south of Denver offers cheap, quality food and more than affordable drinks. Their happy hour menu is offered every day from 3-7 and 10-12. A diner will encounter traditional Irish fare, such as corned beef sliders and sangers. If you don't like Irish food, don't worry. The Irish Snug also offers burgers, tex mex and sophisticated American bar food.
Every year some of the best museums in the USA take part in the Smithsonian Museum Day. 
One of the best free Denver attractions for kids, the Children's Museum of Denver's free day takes place from 4pm to 8pm on the first Tuesday of every month, known as Target Tuesdays.