The free Colorado Mineral and Fossil Spring Show brings gem and fossil dealers from across the U.S. to the Denver area to showcase their huge selection of amazing finds.
Up to 85 Retail / Wholesale Gem, Mineral, Fossil, Jewelry Dealers From All Over The USA
When:
April 14-16, 2017
Location:
The Crowne Plaza Dia
15500 EAST 40TH AVENUE, DENVER, CO 80239
http://www.rockygems.com/colorado-mineral--fossil-spring-show-2017.html
Golden hosts an annual festival celebrating the life and spirit of Buffalo Bill, who is believed to be buried at the top of Lookout Mountain. If you're in the front range during the last weekend of July, Buffalo Bill Days is one of the best things to do on a warm summer weekend.
Bluff Lake Nature Center is a free wildlife and nature center park in Aurora in the Stapleton area. Hiking trails wind their way through the park, passing a seasonal lake and overlooks. This is an excellent Denver area attraction for nature watchers.
Colorado Day is an annual tradition of celebrating Colorado's acceptance into statehood. Colorado was first recognized as a state on August 1, 1876, and now we celebrate Colorado Day on the first Monday of every August.
One of the best ways to experience Denver's rich Hispanic heritage is to visit the annual free Denver Cinco De Mayo Festival, one of the best things to do in Denver on a May weekend.
The Evergreen Chamber Orchestra will have a free performance on Saturday Feb. 2, 2013, 7pm at Evergreen High School. Talented students from area schools will participate with the Evergreen Orchestra in this free concert.
The Evergreen Chamber Orchestra Web Site:
http://www.evergreenchamberorch.org/

Garden of the Gods in Colorado Springs is probably the most beautiful small park in the state. Paved trails make it easy to wander around and check out the amazing cliffs and spires. Picnic areas, paved and unpaved hiking trails, horseback riding, a trading post, and a visitor's center with amazing views; Garden of the Gods is a great place to spend a day.
Deprecated
: Methods with the same name as their class will not be constructors in a future version of PHP; Zebra_Image has a deprecated constructor in
/home/ec2-user/www/public_html/freeindenver/components/com_jem/classes/Zebra_Image.php
on line
46
Winter Trails Day is a nationwide event, with free or discounted access to many cross country (nordic) ski trails and snowshoe trails, free tours, free rentals, and that sort of thing.
This free nature center on top of Lookout Mountain in Golden is one of the top things to do in Colorado with the kids.
McLoughlin's is one of my go-to places when I'm craving happy hour specials in downtown Denver.
OK, I normally make it a policy to only check out Denver happy hours that have food specials with drink specials. However, when I saw that that 5280 had deemed Euclid Hall the best Denver happy hour, I had to check it out for myself. I went in skeptical, and came out satisfied and stuffed.
If you're looking for free things to do in Aspen, Colorado, good luck! Just kidding...
It turns out that Aspen has a free art museum and hiking / biking trail system that are both amazing Aspen attractions.
The museum is always free, but check their web site to see what is currently on display. If you want a more scenic experience, you can get to the museum by walking or biking the trail that goes through the neighborhoods and begins behind the visitor center at Rio Grande Ball Fields. If you walk the trail, make sure you visit the free and amazingly beautiful John Denver Sanctuary!
Location:
590 North Mill Street
Aspen, CO 81611 Map and Schedule
Aspen Art Museum Web Site and Schedule: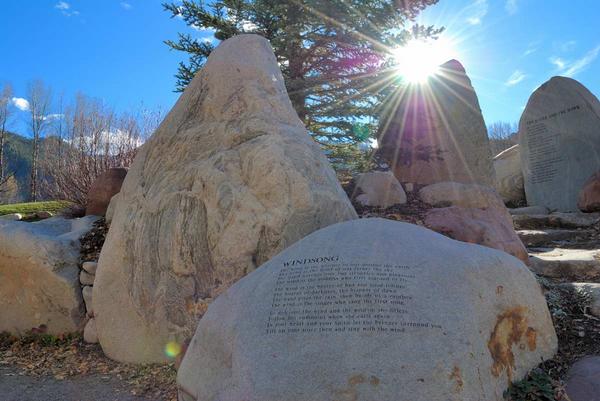 The Colorado State Capital is one of the popular Denver Attractions, not only for the well known '5280 step' but also for the free tours inside.
Why take a Colorado State Capitol tour? I'll give you three reasons:
The Colorado State Capital building in downtown Denver allows you to watch our state Legislature in action. As more people take an interest in the workings of our government, this is a great opportunity to see firsthand how the system works. The Colorado State Legislature is in session from early January to early May.
The capitol building itself is awash in history and amazing architecture. It was built using Colorado materials as much as possible, such as Colorado gold for the dome, granite walls from Granite, Colorado, and Colorado's distinctive red onyx throughout the interior.
The views from the Dome tour are some of the best in Denver!

Location:
Just head for downtown Denver and the 16th Street Mall, you can't miss the gold domed building beyond the southern end of 16th street mall. The steps on the western side are the most popular area to enter as the "1 mile above sea level" markers are there. The civic center park area has become very sketchy, expect to encounter quite a few homeless if you walk through the park.
Visitors to the state capitol are allowed to wander the public areas on their own, or you can take one of several guided tours:

Historical Tours:
All about construction of the building and early Colorado history, as well as some of the more interesting artifacts on display within the building. Reservations are not required unless you have a group of 10 or more. Tours are 45 minutes long and are available weekdays except holidays.
Historical Tour Hours:
10am - 3pm every Monday - Friday
Legislative Tours:
Legislative tours are a popular field trip for Colorado grade school students. When possible, you will make stops in the House and Senate galleries to see the legislature in action. This tour is only for school groups and reservations are required.
Legislative Tour Schedule:
Annually, early January through early May. Reservations are required.

Dome Tours (currently closed):
This tour climbs a long spiral staircase to an indoor observation area with amazing views of Denver.
Dome Tour Hours:
Daily from 9am to 2:30pm. Reservations are required.
Dome tours are currently closed until further notice due to dome renovations.
Mr. Brown's Attic:
This exhibit area illustrates Colorado's history and the legislative process, and includes a hands-on children's area. The attic is open 9am to 3pm on weekdays and reservations are not necessary.
For more information about Colorado State Capitol Tours, visit the Colorado Legislative Council Site:
The Poudre Landmarks Foundation has some of the best Fort Collins attractions for history buffs. Their historic Avery House in Fort Collins offers free tours on Saturdays and Sundays from 1pm to 4pm. The tour guides provide a wealth of information about the city's early days, and what life was like in the front range in the late 1800's. This is one of the great historical things to do in Colorado, as Fort Collins has a rich and colorful early history in the settling of Colorado.
When:
Year-round Saturday and Sunday
1pm to 4pm
For 2014, the Poudre Landmarks web site is incomplete and it is unknown whether Avery House tours are still taking place. Hopefully they will release an updated schedule soon. Call them to check on the latest situation: 970-221-0533
Where:
328 West Mountain Avenue
Fort Collins, CO 80524
Avery House Web Site: