The downtown Louisville Street Faire in Louisville, Colorado brings great music to the Front Range every summer Friday from mid-June to mid-August. This fair's last performance of the year is usually the biggest with internationally known headliners.
In addition to the concert, the fair features excellent food and drink vendors, and children's activities such as arts and crafts.
When:
Summer Fridays from 5 to 10pm.
Music is typically 6:30 - 9.
Where:
Downtown Main Street in Louisville.
Schedule:
The 2013 Louisville Street Faire schedule is as follows:

June 14: CJ Chenier
June 21: Young Dubliners
June 28: Richie Furay
July 12: BoDeans
July 19: The Samples
July 26: Samantha Fish
August 2: Tab Benoit
August 9: Fireball
August 16: Dickey Betts and Great Southern (CANCELLED DUE TO ILLNESS)
I was really looking forward to seeing Dickey Betts again and hope he gets well soon and can come back to Colorado.
Chris Daniels and Freddi will be stepping in at the last minute for this concert.
More Info from the downtown Louisville web site:
Colorado puts on quite a celebration for Independence day, with a large number of fireworks shows across the state. There are events of all sizes in 2017. Here we list some of the larger shows both in the Denver metro area as well as across the state.
The beautiful Morrison Nature Center is a free park in Aurora, Colorado that is definitely worth checking out when you are in the area.
Jefferson County Open Space Parks are probably the best park value in Colorado. A tremendous variety of parks and activities, such as hiking, mountain biking, climbing, and geocaching, all free to anyone.
Here is a list of their parks, maps, details, etc...
Colorado is known for it's goofy festivals and the Great Fruitcake Toss is certainly one of the headliners. This Manitou Springs tradition is held every year after the holidays in an effort to dispose of certain unwanted confections you may have acquired.
Some people prefer to launch their cakes by hand but many choose to build elaborate contraptions to give their fruitcakes the send off they deserve. There are various cake launching categories as well as competitions for the best and prettiest fruit cakes.
When:
The 2014 Great Fruitcake Toss festival has been cancelled. Hopefully it will be back in 2015.
Where:
In Manitou Springs at the Manitou Springs High School track.
401 El Monte Place
Manitou Springs, CO 80829.
Looking for free Denver music? City Park in downtown Denver has a free summer jazz concert schedule with top performers. 
The Leadville Ski Joring Festival is one of the truly great annual ski competitions in Colorado. Well maybe not quite up to professional athlete standards, but what professional athlete would ever try this? Skiers are pulled at breakneck speeds by horses and attempt to spear rings that are hanging from the course as they jump over obstacles.
I don't know about you but I couldn't even do one of those things on an ice covered course. Watching athletes bring it all together is absolutely thrilling. The compeition is just as fierce as an x-games and the danger level is as extreme as it gets. The only thing missing is ESPN.
The Leadville Ski Joring Festival is a family oriented festival with many events and activities in addition to the ski joring. It's a
great way to spend a weekend in the mountains and a must see if you're a ski enthusiast who has seen enough slaloms for one season.
When:
Saturday and Sunday March 1-2, 2014.
Where:
Downtown Leadville, Co.
For more information check the Leadville Ski Joring site:
Deprecated
: Methods with the same name as their class will not be constructors in a future version of PHP; Zebra_Image has a deprecated constructor in
/home/ec2-user/www/public_html/freeindenver/components/com_jem/classes/Zebra_Image.php
on line
46
The United States Olympic Training Center in Colorado Springs is the home of a huge Olympic visitor's center, the U.S. Olympic Hall of Fame, and serves as the training center for many of our country's top athletes. A free tour of the Olympic Complex is one of the best things to do in Colorado Springs.
The Aurora History Museum is free and open every day except Monday and certain holidays. There is a permanent display of Aurora history as well as changing displays. This is a great Denver area free attraction, where you can gain a perspective on the real Colorado and the early days of settling this landscape.
Keystone Ski Resort offers free summer scenic chair lift rides every Friday from 3-7pm, starting June 14 and continuing until summer activities close at the end of August. The views are incredible so I would definitely recommend taking a Friday to check out Keystone.
Willie G's is a great place to have a happy hour snack and a cocktail in the middle of the 16th Street Mall in downtown Denver. The street facing patio allows diners to relax with a drink and watch Denver tourists and businesspeople pass by.
The first thing that hits you when you enter Zengo near the 16th Street mall in downtown Denver is the atmosphere. The low lighting, the expansive bar and the couches in the lounge all say one thing- "I am hip and young in Denver."
If you're looking for free things to do in Aspen, Colorado, good luck! Just kidding...
It turns out that Aspen has a free art museum and hiking / biking trail system that are both amazing Aspen attractions.
The museum is always free, but check their web site to see what is currently on display. If you want a more scenic experience, you can get to the museum by walking or biking the trail that goes through the neighborhoods and begins behind the visitor center at Rio Grande Ball Fields. If you walk the trail, make sure you visit the free and amazingly beautiful John Denver Sanctuary!
Location:
590 North Mill Street
Aspen, CO 81611 Map and Schedule
Aspen Art Museum Web Site and Schedule: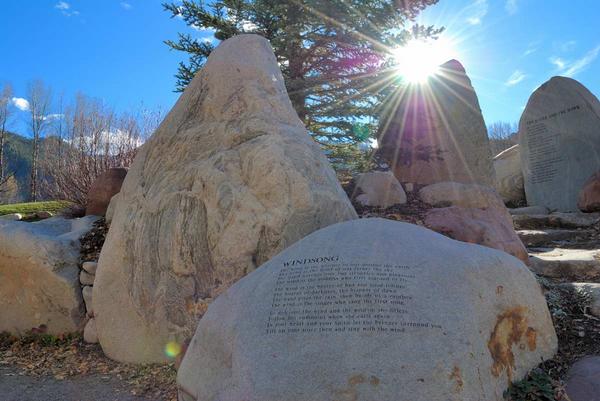 The Denver Zoo free days are by far the most popular Denver free days for families with kids, and are typically held during the fall and winter.