Two Ponds is a very small National Wildlife Refuge which was created as a place for migrating birds to stop and rest.
The Denver Center for the Performing Arts offers a limited number of $10 tickets, every Tuesday morning, for shows coming later in the week.
The Leadville Ski Joring Festival is one of the truly great annual ski competitions in Colorado. Well maybe not quite up to professional athlete standards, but what professional athlete would ever try this? Skiers are pulled at breakneck speeds by horses and attempt to spear rings that are hanging from the course as they jump over obstacles.
I don't know about you but I couldn't even do one of those things on an ice covered course. Watching athletes bring it all together is absolutely thrilling. The compeition is just as fierce as an x-games and the danger level is as extreme as it gets. The only thing missing is ESPN.
The Leadville Ski Joring Festival is a family oriented festival with many events and activities in addition to the ski joring. It's a
great way to spend a weekend in the mountains and a must see if you're a ski enthusiast who has seen enough slaloms for one season.
When:
Saturday and Sunday March 1-2, 2014.
Where:
Downtown Leadville, Co.
For more information check the Leadville Ski Joring site:
The "Golden Community Rodeo" is a weekly kayak competition in downtown Golden along Clear Creek at the Golden kayak park. You can sit or stand along the creek and watch the competition. It's pretty amazing what these kayakers can do, and definitely worth taking some time to watch. Can you think of a better thing to do on a warm spring Wednesday?
Competitors are arranged according to class. This year the classes are:
Juniors
Masters
Men: Sport, Intermediate, and Expert
Women: Sport, Intermediate, and Expert
Each year over Labor Day Weekend, Copper Mountain Ski Resort hosts the free Copper Country festival, with two full days of country, blues, and folk music from top name performers.
Clear Creek History Park in downtown Golden is now free to walk through, sunrise to sunset every day.
The National Park Service offers free entrance to all National Parks a few times each year. This is a great way to explore our beautiful Colorado park lands.
Deprecated
: Methods with the same name as their class will not be constructors in a future version of PHP; Zebra_Image has a deprecated constructor in
/home/ec2-user/www/public_html/freeindenver/components/com_jem/classes/Zebra_Image.php
on line
46
For vacationers to Aspen, the Aspen Nordic center provides probably the ultimate cross country ski and snowshoe experience in Colorado, and it is entirely free!
The top Colorado attraction for train enthusiasts also has free days! A few free days are held each year at the Colorado Railroad Museum in Golden. This museum features a diverse collection of trains, some restored and some not, located outdoors. You can climb aboard some of them. There are also indoor museum exhibits and a huge indoor miniature train layout that is operated by quarters.
One of the top things to do in Denver with older kids, the Denver Museum of Nature and Science is a hands-on educational museum that kids love!
If you're looking for free things to do in Aspen, Colorado, good luck! Just kidding...
It turns out that Aspen has a free art museum and hiking / biking trail system that are both amazing Aspen attractions.
The museum is always free, but check their web site to see what is currently on display. If you want a more scenic experience, you can get to the museum by walking or biking the trail that goes through the neighborhoods and begins behind the visitor center at Rio Grande Ball Fields. If you walk the trail, make sure you visit the free and amazingly beautiful John Denver Sanctuary!
Location:
590 North Mill Street
Aspen, CO 81611 Map and Schedule
Aspen Art Museum Web Site and Schedule: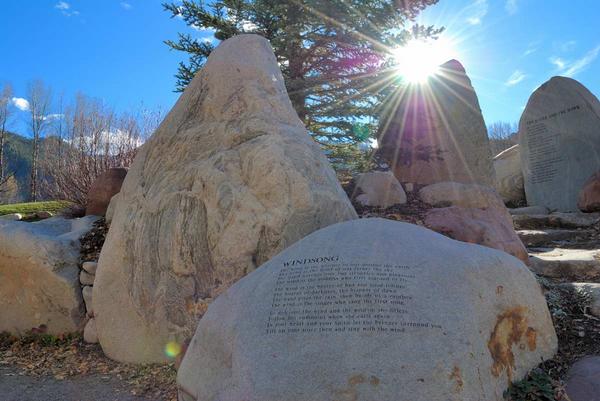 Denver Mint Tours are closed for construction through February 27, 2014.
If you ever wanted to know where that change in your pocket comes from, the free Denver Mint Tours are the place to find out! Tours are free of charge Monday through Thursday at the United States Mint in downtown Denver. Reservations must be made in advance through the United States Mint Tour Reservation System
The Denver Mint building is highly secure, so you will need to pass through a security screening before your tour begins. Many common items are not permitted on the tour, such as purses, check their web site for a detailed list of prohibited items. The tour itself is very informative and interesting, discussing not only how new coins are made but also America's coin making history.
When:
Year-round, Monday - Thursday.
Reservations are required.
Be at the tour entrance 30 minutes prior to your tour time.
Location:
320 West Colfax Avenue
It's just off the southern end of the 16th Street Mall near Civic Center Park.
Visit their web site for tour details and reservations:
Denver's Art District on Santa Fe Drive features one of the more diverse collections of galleries in the United States, all situated within a short walking distance.
The free Underhill Museum is a small but quaint depiction of early life in downtown Idaho Springs, with several rooms set up to display a typical home setting in the early 1900's. The kitchen in particular is very elaborate, and during better weather the Victorian Garden is open to the public. In addition, there is an old vault, antique cash register, and many photos of Idaho Springs through the years. 

This free museum earns revenue for the History Society of Idaho Springs with a bookstore located at the entrance. They have an excellent selection of Colorado books as well as a large used book inventory.

This is a nice free historical museum to visit while browsing the shops in downtown Idaho Springs. I'm no fan of tourist trap shops that are full of cheap imported junk, like many of the shops in more popular Colorado tourist destinations. The shops in Idaho Springs are not like that. Many feature locally made artisan works for reasonable prices.
Fall and Winter hours 2011-2012:
Saturday, Sunday, and Monday 11am to 5pm.

Location:
The Underhill Museum is at the western end of the strip in downtown Idaho Springs on Miner Street. Look for the sign that says "Books".

While you're in the area check out the Visitor Center and Heritage Museum at 2060 Miner Street.
Historic Idaho Springs site: