This October festival has become a Denver tradition.
Mountain Fest. It's as fun as it sounds.

Enjoy an afternoon of mountain-centric activities and discover all the exciting benefits of Colorado Mountain Club membership from noon to 4pm Saturday, March 25. This FREE event will be held at the American Mountaineering Center, 710 10th Street in Golden, Colorado. The festivities will kick off at noon featuring your 1st drink free from Upslope Brewing Company and Stem Ciders. Mountain Fest is the perfect way to get motivated and learn new skills and for spring and summer mountain adventures. This year's event will feature, outdoor skills clinics, tours and a Beacon clinic in the American Mountaineering Museum, gear demos, open climbing , and CMC membership deals.

The highlight of the afternoon will be an expo featuring the CMC's schools and courses: Wilderness Trekking School (WTS), Basic Mountaineering School (BMS), Fly Fishing School, Advanced Crevasse Rescue, Alpine Scrambling School, Intro to Hiking Safety, and Backpacking School. Volunteers will be on hand to give personal accounts about participating in CMC's educational activities. Expo booths will also showcase CMC's programs and initiatives: CMC's Adventure Travel Program, Conservation, Youth Education Program (YEP), CMC Press, Denver Trails and how to get started Volunteering in the CMC. The membership booth will feature membership deals.

Free presentations and clinics will include: How to Properly Fit and Purchase Footwear by Adidas- Mountain Fest lead sponsor; Compass demo and clinic presented by Brunton- Mountain Fest sponsor; Climbing the 14ers; Rock Self Rescue; Avalanche Education; Wilderness First Aid; Ten Outdoor Essentials and Mountain Safety; Know Before You Go Avalanche Education; and a Highlight of the CMC's Adventure Travel Trips from all over the world!

For a full schedule, please visit the CMC website at www.cmc.org/mountainfest

Don't miss this opportunity to experience the CMC for yourself or introduce friends and family to all the adventure the Club has to offer.
Colorado is known for it's goofy festivals and the Great Fruitcake Toss is certainly one of the headliners. This Manitou Springs tradition is held every year after the holidays in an effort to dispose of certain unwanted confections you may have acquired.
Some people prefer to launch their cakes by hand but many choose to build elaborate contraptions to give their fruitcakes the send off they deserve. There are various cake launching categories as well as competitions for the best and prettiest fruit cakes.
When:
The 2014 Great Fruitcake Toss festival has been cancelled. Hopefully it will be back in 2015.
Where:
In Manitou Springs at the Manitou Springs High School track.
401 El Monte Place
Manitou Springs, CO 80829.

Garden of the Gods in Colorado Springs is probably the most beautiful small park in the state. Paved trails make it easy to wander around and check out the amazing cliffs and spires. Picnic areas, paved and unpaved hiking trails, horseback riding, a trading post, and a visitor's center with amazing views; Garden of the Gods is a great place to spend a day.
The free Sunnyside Music Festival is a showcase of Colorado talent that takes place each year in Denver's Sunnyside neighborhood.
Jefferson County Open Space Parks are probably the best park value in Colorado. A tremendous variety of parks and activities, such as hiking, mountain biking, climbing, and geocaching, all free to anyone.
Here is a list of their parks, maps, details, etc...
The annual Community Car Show in Littleton takes place Saturday September 12th, 2015, from 10am to 2pm. Admission is free both for spectators and exhibitors. The car show takes place at Heritage United Methodist Church and will include music, free snacks, and you will vote on the People's Choice winner.
After the car show, a drag race takes place from 4pm - 8pm at Bandimere Speedway in Morrison. Admission is free for spectators, and $30 for racers. 
You are encouraged to bring a canned food item or good condition used winter coat or boots.
When:
Saturday September 12, 2015
Car show runs from 10am to 2pm.
Drag race runs from 4pm to 8pm.
Where:
Car show takes place at Heritage United Methodist Church:
     7077 S. Simms Street
     Littleton, CO 80127
     (next to Chatfield Sr. High)
Drag Race takes place at Bandimere Speedway in Morrison:
    Immediately off the C-470 Morrison exit.
Deprecated
: Methods with the same name as their class will not be constructors in a future version of PHP; Zebra_Image has a deprecated constructor in
/home/ec2-user/www/public_html/freeindenver/components/com_jem/classes/Zebra_Image.php
on line
46
For the 2019 ski season, Loveland Ski Area and 95.7 The Party FM are offering $25 lift tickets on the second Thursday of each winter month.
They also offer a 2 for 1 ticket for the following week if you can't attend on Thursday. To get the $25 price, or the 2 for 1, you have to go to the "95.7 The Party" web site and sign up as a "Party VIP", then print the coupon.
When:
Thursday, February 14th, 2019
Thursday, March 14th, 2019

Where:
Loveland Ski Area is located off of I-70 just before Eisenhower Tunnel. Take the Route 6 exit (Exit 216) and you can't miss the ski area. Loveland is broken up into 2 distinct areas with a shuttle bus that runs between them. Loveland Valley (left off the exit) is considered the learning and training area and Loveland Basin (right off the exit) is the main ski area. A shuttle bus runs between both.
If you're looking for free things to do in Aspen, Colorado, good luck! Just kidding...
It turns out that Aspen has a free art museum and hiking / biking trail system that are both amazing Aspen attractions.
The museum is always free, but check their web site to see what is currently on display. If you want a more scenic experience, you can get to the museum by walking or biking the trail that goes through the neighborhoods and begins behind the visitor center at Rio Grande Ball Fields. If you walk the trail, make sure you visit the free and amazingly beautiful John Denver Sanctuary!
Location:
590 North Mill Street
Aspen, CO 81611 Map and Schedule
Aspen Art Museum Web Site and Schedule: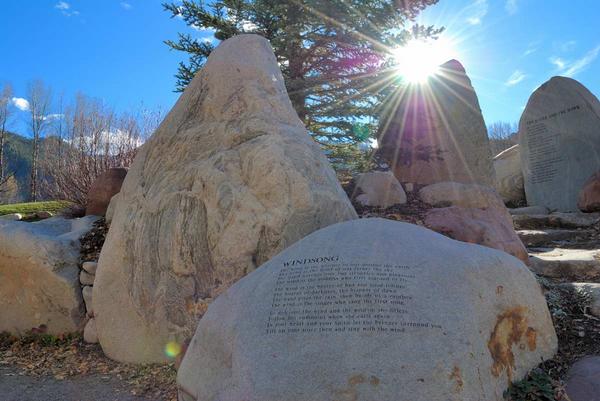 The United States Olympic Training Center in Colorado Springs is the home of a huge Olympic visitor's center, the U.S. Olympic Hall of Fame, and serves as the training center for many of our country's top athletes. A free tour of the Olympic Complex is one of the best things to do in Colorado Springs.
Denver's Art District on Santa Fe Drive features one of the more diverse collections of galleries in the United States, all situated within a short walking distance.
The free Museum at the Colorado Sports Hall of Fame at Invesco Field showcases the accomplishments of Colorado's finest athletes across many sports disciplines from the most popular spectator sports to little-known gems. 
There are exhibits featuring many of the greatest triumphs in Colorado sports history, from the Broncos to Golf to women in sports, as well as an interactive Kid's Zone. There is also an exhibit honoring the National Sports Center for the Disabled and the Special Olympics.
Hours
September thru May:  Thursday -- Saturday 10am to 3pm
June, July, August: Tuesday -- Saturday 10am to 3pm
Beware of special hours and closures before or during Broncos home games, contact the Museum to confirm hours.
Location
Invesco Field Gate #1 (western side)
For the latest info, check the Colorado Sports Hall of Fame web site: 
The Littleton Museum is a 14 acre indoor and outdoor history museum depicting Colorado pioneer history. Two historic farm sites featuring a schoolhouse and blacksmith shop bring history to life in a way that consistently rates this museum as one of the top living history museums in the United States.
Willie G's is a great place to have a happy hour snack and a cocktail in the middle of the 16th Street Mall in downtown Denver. The street facing patio allows diners to relax with a drink and watch Denver tourists and businesspeople pass by.