A Taste of Colorado is Colorado's largest Labor Day Weekend festival. This festival highlights diverse cuisine from Colorado restaurants, offering bite size tastes to full meals.
The Pueblo Chile & Frijoles Festival in Southeast Colorado is guaranteed to burn your eyes with fun! Besides being overcome with tears in the chili roasting area, you will find a diverse selection of music and dance performances as well as local vendors.
Brunswick Bowling Centers are offering free bowling for students during the summer of 2012. Kids or their parents (depending on age) sign up for Brunswick's Bonus Zone to get free bowling.
There are a few Brunswick Bowling Centers along the front range that offer the free bowling for kids promotion.
Find a bowling center:
Bonus Zone Sign up:
Colorado puts on quite a celebration for Independence day, with a large number of fireworks shows across the state. There are events of all sizes in 2017. Here we list some of the larger shows both in the Denver metro area as well as across the state.
The Wheat Ridge Green Belt, also known as the Clear Creek Trail, is a beautiful area in the Denver Colorado suburbs to hike, bike, or just play on the jungle gyms!
On summer Thursdays and Fridays the laid back atmosphere of Snowmass Colorado comes alive with their free Snowmass Village Summer Concerts. The music, set up on a Snowmass ski run stage near the upper village, is loud and wild.
When:
Summer Thursdays (and sometimes Fridays) from 6:15 to 8:30pm.
Where:
Snowmass upper village.
Schedule:
The 2013 Snowmass Village Free Summer Concert schedule is as follows:

June 20: Freddy Jones
June 27: The Dunwells
Friday July 5: CJ Chenier
July 11: The Revivalists
July 18: Mountain Standard Time
July 25: J.Boog
August 1: Tab Benoit
August 8: Nigel Hall
August 15: Robert Walters

More Info from the Aspen Snowmass web site:

Garden of the Gods in Colorado Springs is probably the most beautiful small park in the state. Paved trails make it easy to wander around and check out the amazing cliffs and spires. Picnic areas, paved and unpaved hiking trails, horseback riding, a trading post, and a visitor's center with amazing views; Garden of the Gods is a great place to spend a day.
One of the top things to do in Denver with older kids, the Denver Museum of Nature and Science is a hands-on educational museum that kids love!
Denver Mint Tours are closed for construction through February 27, 2014.
If you ever wanted to know where that change in your pocket comes from, the free Denver Mint Tours are the place to find out! Tours are free of charge Monday through Thursday at the United States Mint in downtown Denver. Reservations must be made in advance through the United States Mint Tour Reservation System
The Denver Mint building is highly secure, so you will need to pass through a security screening before your tour begins. Many common items are not permitted on the tour, such as purses, check their web site for a detailed list of prohibited items. The tour itself is very informative and interesting, discussing not only how new coins are made but also America's coin making history.
When:
Year-round, Monday - Thursday.
Reservations are required.
Be at the tour entrance 30 minutes prior to your tour time.
Location:
320 West Colfax Avenue
It's just off the southern end of the 16th Street Mall near Civic Center Park.
Visit their web site for tour details and reservations:
If you're looking for free things to do in Aspen, Colorado, good luck! Just kidding...
It turns out that Aspen has a free art museum and hiking / biking trail system that are both amazing Aspen attractions.
The museum is always free, but check their web site to see what is currently on display. If you want a more scenic experience, you can get to the museum by walking or biking the trail that goes through the neighborhoods and begins behind the visitor center at Rio Grande Ball Fields. If you walk the trail, make sure you visit the free and amazingly beautiful John Denver Sanctuary!
Location:
590 North Mill Street
Aspen, CO 81611 Map and Schedule
Aspen Art Museum Web Site and Schedule: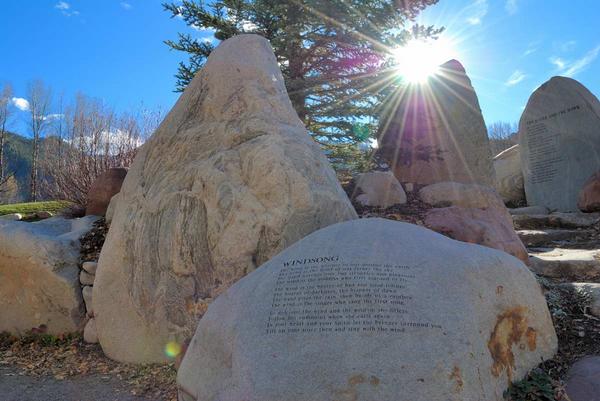 Patsy's Candies in Colorado Springs takes the making of chocolate candy to a whole new level. Free tours of their factory demonstrate the handcrafted nature of Patsy's Candies and highlight the artisanship present in their high quality candies.
Free days for Colorado residents are held throughout the year at both the Denver Botanic Gardens and the Denver Botanic Gardens at Chatfield.
The Colorado Ski Museum & Snowboard Museum in Vail Village celebrates Colorado's rich ski history with a huge collection of artifacts and exhibits covering the whole of ski and snowboard history in Colorado.
The Poudre Landmarks Foundation has some of the best Fort Collins attractions for history buffs. Their historic Avery House in Fort Collins offers free tours on Saturdays and Sundays from 1pm to 4pm. The tour guides provide a wealth of information about the city's early days, and what life was like in the front range in the late 1800's. This is one of the great historical things to do in Colorado, as Fort Collins has a rich and colorful early history in the settling of Colorado.
When:
Year-round Saturday and Sunday
1pm to 4pm
For 2014, the Poudre Landmarks web site is incomplete and it is unknown whether Avery House tours are still taking place. Hopefully they will release an updated schedule soon. Call them to check on the latest situation: 970-221-0533
Where:
328 West Mountain Avenue
Fort Collins, CO 80524
Avery House Web Site: