The Denver Center for the Performing Arts offers a limited number of $10 tickets, every Tuesday morning, for shows coming later in the week.
The Evergreen Chamber Orchestra will have a free performance on Saturday Feb. 2, 2013, 7pm at Evergreen High School. Talented students from area schools will participate with the Evergreen Orchestra in this free concert.
The Evergreen Chamber Orchestra Web Site:
http://www.evergreenchamberorch.org/
The "Golden Community Rodeo" is a weekly kayak competition in downtown Golden along Clear Creek at the Golden kayak park. You can sit or stand along the creek and watch the competition. It's pretty amazing what these kayakers can do, and definitely worth taking some time to watch. Can you think of a better thing to do on a warm spring Wednesday?
Competitors are arranged according to class. This year the classes are:
Juniors
Masters
Men: Sport, Intermediate, and Expert
Women: Sport, Intermediate, and Expert
Golden, Colorado celebrates Buffalo Bills birthday in grand style every year at Rock Rest Lodge. This free festival features re-enactments of the wild west days as well as great music, food, and western authors.
The Boulder Creek Festival takes place every Memorial Day weekend in Boulder along Boulder Creek, and features great free music, dancing, rides for the kids, and other entertainment. This is one of the best festivals of the year, and a great thing to do on Memorial Day weekend.
The Creek at the Peak raft and kayak race takes place on June 23rd, 2012 and provides a great opportunity to watch rafters and kayakers compete for prizes while supporting a great cause. Come check out the race and the after race festival in Idaho Springs on Saturday June 23rd. The festival takes place on the east side of the Springs at the ball fields. The race finishes just west of Idaho Springs and begins in Lawson.
The festival begins at noon and will feature live music, food from local restaurants, and Idaho Springs' famous Tommyknocker beer!
When: Saturday June 23rd, 2012.
The festival begins around noon and continues through the evening.
The races begin at 5pm and will probably finish around 7:30pm.
Where: Idaho Springs at the ball fields on the east side of town.
For all the details, check the Creek at the Peak site:
The South Golden Road area around the Sonic drive-in is home to a very large monthly car show called the Golden Super Cruise. They typically hold this event on the first Saturday of every month from May through October. One of the best things to do in Golden on a Saturday evening.
Deprecated
: Methods with the same name as their class will not be constructors in a future version of PHP; Zebra_Image has a deprecated constructor in
/home/ec2-user/www/public_html/freeindenver/components/com_jem/classes/Zebra_Image.php
on line
46
If you are spending a day in Golden and looking for free attractions, The Colorado School of Mines Geology Museum has a large display of rare gemstones, and their mining display downstairs should not be missed! One of the main attractions at the School of Mines Geology Museum is a moon rock collected during the Apollo 17 lunar mission!
When:
Monday - Saturday 9am - 4pm
Sunday 1pm - 4pm
Where:
1310 Maple St., Golden, CO 80401
The Museum is located in downtown Golden on the Colorado School of Mines campus, in the General Research Library building.
Check their web site for details:
If you're looking for free things to do in Aspen, Colorado, good luck! Just kidding...
It turns out that Aspen has a free art museum and hiking / biking trail system that are both amazing Aspen attractions.
The museum is always free, but check their web site to see what is currently on display. If you want a more scenic experience, you can get to the museum by walking or biking the trail that goes through the neighborhoods and begins behind the visitor center at Rio Grande Ball Fields. If you walk the trail, make sure you visit the free and amazingly beautiful John Denver Sanctuary!
Location:
590 North Mill Street
Aspen, CO 81611 Map and Schedule
Aspen Art Museum Web Site and Schedule: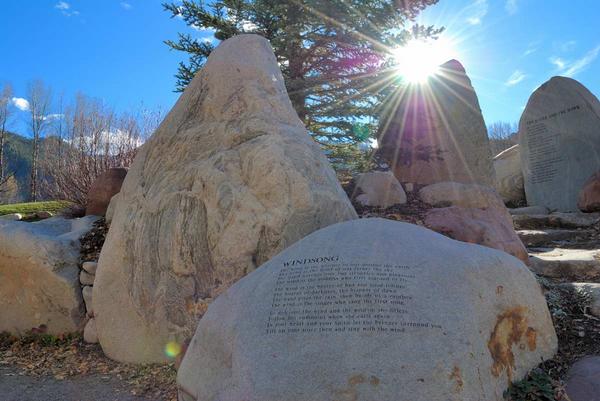 One of the top things to do in Denver with older kids, the Denver Museum of Nature and Science is a hands-on educational museum that kids love!
The Peterson Air and Space Museum has one of the better displays of vintage and historic military aircraft in the western United States.
This free nature center on top of Lookout Mountain in Golden is one of the top things to do in Colorado with the kids.

Howelsen Hill Ski Area is a historic ski area and Olympic training grounds operated by the city of Steamboat Springs, and is one of the only ski areas left in Colorado that is affordable on a daily basis. This ski area is a decent place for downhill skiers and snowboarders to make some quick laps, and features a nice terrain park, but it is especially nice for Cross Country / Nordic skiers.
There are only a handful of downhill runs served by 1 rope tow and 1 chair lift, but there are miles of Nordic trails. Howelson is lit for night skiing and often stays open until 8pm.
Oh yeah, the huge ski jumps are off limits to the public but they are an amazing sight!
2012 - 2013 Rates:
Lift Tickets: $20 per adult, discounts for children and seniors.
Terrain Park Only: $10
Nordic Trails Only: $10
Children's Magic carpet learning area: Free! (see concession booth for a free ticket).
$10 night skiing tickets are also available Tuesday through Friday.
Full lift ticket pricing breakdown for 2012-2013:
Hours and Season:
CLOSED MONDAYS.
Tuesday 1:00 pm – 6:00 pm

Wednesday 1:00 pm - 8:00pm

Thursday 3:45 pm - 8:00pm

Friday 10:00 am - 6:00 pm

Saturday and Sunday 10:00 am – 4:00 pm

Closed on Christmas Day and special holiday hours are in effect through Jan 3.
Howelson Hill Home Page and Maps:
Steamboat is fairly remote for a day trip, but if you can't afford the lodging in the area, there is a year-round campground that is reasonable called Steamboat Campground.
The United States Air Force Academy at Colorado Springs has a unique visitor center and chapel area that is free and open to the public. Visitors can learn a wealth of information about the academy and it's history as well as view the planes on display. The Chapel is absolutely beautiful and due to it's unique architecture it's probably the most photographed building in all of Colorado.