The Evergreen Chamber Orchestra will have a free performance on Saturday Feb. 2, 2013, 7pm at Evergreen High School. Talented students from area schools will participate with the Evergreen Orchestra in this free concert.
The Evergreen Chamber Orchestra Web Site:
http://www.evergreenchamberorch.org/
The free Colorado Mineral and Fossil Spring Show brings gem and fossil dealers from across the U.S. to the Denver area to showcase their huge selection of amazing finds.
Up to 85 Retail / Wholesale Gem, Mineral, Fossil, Jewelry Dealers From All Over The USA
When:
April 14-16, 2017
Location:
The Crowne Plaza Dia
15500 EAST 40TH AVENUE, DENVER, CO 80239
http://www.rockygems.com/colorado-mineral--fossil-spring-show-2017.html
Jefferson County Open Space Parks are probably the best park value in Colorado. A tremendous variety of parks and activities, such as hiking, mountain biking, climbing, and geocaching, all free to anyone.
Here is a list of their parks, maps, details, etc...
Colorado is known for it's goofy festivals and the Great Fruitcake Toss is certainly one of the headliners. This Manitou Springs tradition is held every year after the holidays in an effort to dispose of certain unwanted confections you may have acquired.
Some people prefer to launch their cakes by hand but many choose to build elaborate contraptions to give their fruitcakes the send off they deserve. There are various cake launching categories as well as competitions for the best and prettiest fruit cakes.
When:
The 2014 Great Fruitcake Toss festival has been cancelled. Hopefully it will be back in 2015.
Where:
In Manitou Springs at the Manitou Springs High School track.
401 El Monte Place
Manitou Springs, CO 80829.
The Wheat Ridge Green Belt, also known as the Clear Creek Trail, is a beautiful area in the Denver Colorado suburbs to hike, bike, or just play on the jungle gyms!
Mountain Fest. It's as fun as it sounds.

Enjoy an afternoon of mountain-centric activities and discover all the exciting benefits of Colorado Mountain Club membership from noon to 4pm Saturday, March 25. This FREE event will be held at the American Mountaineering Center, 710 10th Street in Golden, Colorado. The festivities will kick off at noon featuring your 1st drink free from Upslope Brewing Company and Stem Ciders. Mountain Fest is the perfect way to get motivated and learn new skills and for spring and summer mountain adventures. This year's event will feature, outdoor skills clinics, tours and a Beacon clinic in the American Mountaineering Museum, gear demos, open climbing , and CMC membership deals.

The highlight of the afternoon will be an expo featuring the CMC's schools and courses: Wilderness Trekking School (WTS), Basic Mountaineering School (BMS), Fly Fishing School, Advanced Crevasse Rescue, Alpine Scrambling School, Intro to Hiking Safety, and Backpacking School. Volunteers will be on hand to give personal accounts about participating in CMC's educational activities. Expo booths will also showcase CMC's programs and initiatives: CMC's Adventure Travel Program, Conservation, Youth Education Program (YEP), CMC Press, Denver Trails and how to get started Volunteering in the CMC. The membership booth will feature membership deals.

Free presentations and clinics will include: How to Properly Fit and Purchase Footwear by Adidas- Mountain Fest lead sponsor; Compass demo and clinic presented by Brunton- Mountain Fest sponsor; Climbing the 14ers; Rock Self Rescue; Avalanche Education; Wilderness First Aid; Ten Outdoor Essentials and Mountain Safety; Know Before You Go Avalanche Education; and a Highlight of the CMC's Adventure Travel Trips from all over the world!

For a full schedule, please visit the CMC website at www.cmc.org/mountainfest

Don't miss this opportunity to experience the CMC for yourself or introduce friends and family to all the adventure the Club has to offer.
The beautiful Morrison Nature Center is a free park in Aurora, Colorado that is definitely worth checking out when you are in the area.
Deprecated
: Methods with the same name as their class will not be constructors in a future version of PHP; Zebra_Image has a deprecated constructor in
/home/ec2-user/www/public_html/freeindenver/components/com_jem/classes/Zebra_Image.php
on line
46
Keystone Ski Resort offers free summer scenic chair lift rides every Friday from 3-7pm, starting June 14 and continuing until summer activities close at the end of August. The views are incredible so I would definitely recommend taking a Friday to check out Keystone.
Half Fast Subs in Boulder has one of the largest menu choices I've ever seen at a restaurant. The hardest thing to do at this place it to make a decision between the hot subs, cold subs, veggie subs and even salads. Whatever you chose, you won't be disappointed.
Free days for Colorado residents are held throughout the year at both the Denver Botanic Gardens and the Denver Botanic Gardens at Chatfield.
Every year some of the best museums in the USA take part in the Smithsonian Museum Day. 
For the dollhouse fan in every little girl at heart, the Denver Museum of Miniatures, Dolls, and Toys has a Community Day on the first Sunday of every month, from 1 pm to 4 pm.  
If you're looking for free things to do in Aspen, Colorado, good luck! Just kidding...
It turns out that Aspen has a free art museum and hiking / biking trail system that are both amazing Aspen attractions.
The museum is always free, but check their web site to see what is currently on display. If you want a more scenic experience, you can get to the museum by walking or biking the trail that goes through the neighborhoods and begins behind the visitor center at Rio Grande Ball Fields. If you walk the trail, make sure you visit the free and amazingly beautiful John Denver Sanctuary!
Location:
590 North Mill Street
Aspen, CO 81611 Map and Schedule
Aspen Art Museum Web Site and Schedule: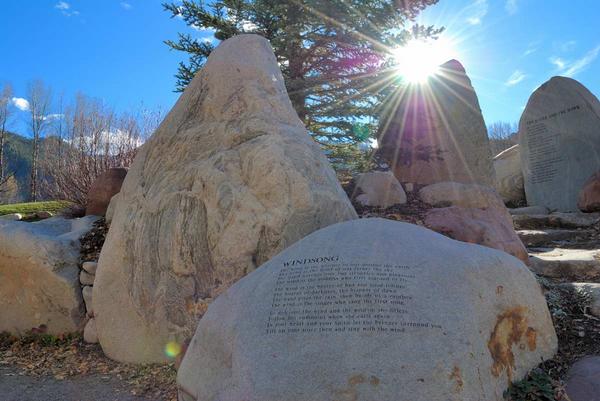 The Coors tour is one of Colorado's most famous free tours, and one of the top Colorado attractions. If you are in the Denver area, try to make the trip west to the Coors tour in downtown Golden.
After parking, you will be picked up by a small bus and taken on a short tour of downtown Golden. The driver will provide information about Golden and Coors along the way.
After exiting the bus, you go into the Coors tour center, where you will receive an audio device that you listen to as you follow the self-guided tour.
The Coors tour is very in depth, taking you through the history of Coors and the stages of brewing and packaging. You will see the huge brewing vats and other facilities critical to the process. The packaging area is one of the most dramatic aspects when it is in full operation.
In the middle of the Coors tour you enter a room which serves a small sample of the freshest beer you will likely ever taste, recently off of the production line. At the end of the tour you enter the bar area where you receive three free drinks of your choice! And don't worry, they have root beer and other drinks for the designated driver and the children.
The Coors tour is so popular that it can be very crowded with long wait times at the bus and bar. Consider attending earlier in the day or on a weekday.
When:
Winter Hours:
Thursday 10-4
Friday 10-4
Saturday 10-4
Sunday noon-4
Monday 10-4
Closed Tuesday, Wednesday and all major holidays.
Summer Hours (May 29 through Labor Day):
Monday - Saturday 10am - 4pm
Sunday 12noon - 4pm
Closed on all major holidays.
Specific Closure Dates:
April 20th.
May 26, 27, 28.
July 4th.
September 1, 2, 3.
November 28-29.
December 24-25.
December 31-January 1.
Where:
The Coors tour is located in the middle of downtown Golden. The gigantic concrete buildings are impossible to miss.
Parking for the tours is in a large lot at the intersection of 13th street and Ford Street. The line for the Coors tour bus forms near this intersection.
Information about the Coors tour from the MillerCoors site: